First European Defence Innovation Day Calls for More Investment and Cooperation |#EDID22
First European Defence Innovation Day Calls for More Investment and Cooperation
Brussels, 1 June 2022. "We must invest more in defence and make up for years of budget cuts and underinvestment. The message is clear: we need to reduce fragmentation and invest more together, starting now", said High Representative/Head of the European Defence Agency, Josep Borrell, during the first European Defence Innovation Day – organised by the European Defence Agency under the auspices of the French Presidency of the Council of the European Union.
The event displayed how greater investment and cooperation in defence innovation is crucial to maintain and drive European technological sovereignty.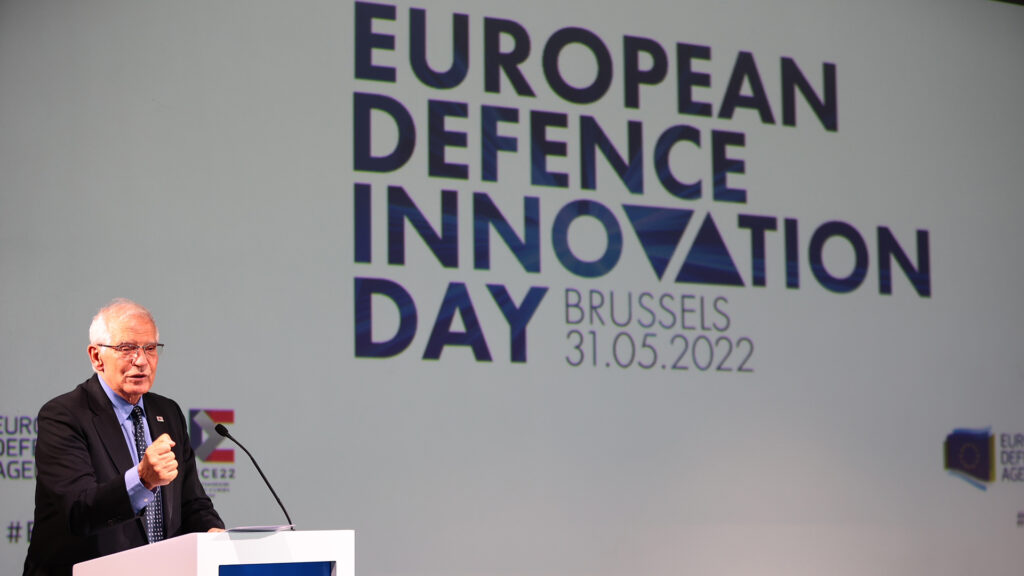 A first for the European Defence Innovation Hub (HEDI)
The Defence Innovation Day marks the official launch – and first activity – of the Hub for European Defence Innovation (HEDI) which was established within EDA following a decision by Member States' Defence Ministers on 17 May. The launch of HEDI is not only an important first delivery of the Strategic Compass, but also a crucial step towards a more innovative European defence.
The Head of Agency, Josep Borrell said: "EDA certainly has a key role to play in defence innovation. It has been dealing with innovation since its creation in 2004. And it has already delivered. Successful examples include projects on drone swarms; technologies for electromagnetic railguns; or new clean energy technologies to lower the carbon footprint and decrease energy dependencies in the defence sector. These are all initiatives developed at EDA".
Speaking at the opening of the event, EDA Chief Executive, Jiri Šedivý said: "The creation of the Hub for European Defence Innovation in EDA is an additional sign that Member States are ready to take European defence innovation to the next level, in cooperation with the European Commission but also with NATO".
Showcasing European Excellence in Innovation
The European Defence Innovation Day also extended to an exhibition highlighting cutting-edge defence innovations developed at national and European level. The exhibition gathered innovators from 19 Member States and 9 developed within the framework of the European Defence Agency. "I'm proud" of EDA's work on innovation so far, "but we have to do more", the Head of the Agency Josep Borrell said, insisting on a close cooperation with the European Commission and its European Defence Fund (EDF), as well as with NATO "because we have the same purpose".
The event gathered defence experts and innovators from EU institutions, Member States' Defence Ministries, armed forces and innovation agencies, NATO, media, research institutes, industry and academia. A summary of the discussions during the event are available here.
More information
Event summary : First European Defence Innovation Day marks launch of HEDI (europa.eu)
Factsheet: https://eda.europa.eu/publications-and-data/factsheets/factsheet-hub-for-eu-defence-innovation-(hedi)
Press release: Hub for EU Defence Innovation Established within EDA (europa.eu)
Source: https://eda.europa.eu/news-and-events/news/2022/06/01/first-european-defence-innovation-day-calls-for-more-investment-and-cooperation